By Karen Morian, Ph.D., UFF President
Welcome to 2021! I know we were all happy to see the back of 2020, but we have seen some of it slosh over into the new year. As I write this mid-January, the Covid pandemic is at its highest level yet, and the governmental transition is not going as smoothly as we might have hoped (to say the least). That said, I believe there is some daylight ahead: We are getting new, scientifically driven leadership to combat the pandemic, there are multiple vaccines in process, and at least we will not have to worry so much about federal agencies attacking our profession and our students anymore. I believe we will even see some support for our work as educators and as union members. There is even a New Deal for Higher Education under discussion.
We have much work to do on organizing our members to educate both lawmakers and the public as to what we do and why our work should be valued. I hope you will join us in that work.
The legislative outlook for higher education
United Faculty of Florida's work to advocate on behalf of our members and higher education now pivots to the 2021 Florida Legislature. In fact, that began shortly after the November election. Local chapters were supplied with a template and encouraged to send letters to all elected and reelected legislators, congratulating them and introducing their UFF chapter representatives. We see this as the first step toward building healthy, long-term relationships with our legislators, regardless of party.
UFF's Government Relations (GR) Committee's structure and programs will be expanding and evolving this year. In addition to the statewide committee, there will be several subgroups and working groups. Additionally, we will be assisting local chapter GR committees with their local work and lobbying efforts by providing assistance and resources. If you are interested in getting involved, please reach out to your local chapter leaders.
Our top state legislative priority, as always, is funding. At the moment, the state is projecting $3.3 billion in revenue shortfall, down from earlier estimates of ​$5.4 billion. While stopgap funding for state and local governments was deleted from the Covid relief/stimulus bill in December in favor of ​$600 individual payments, we expect that the new Congress will pass a relief/stimulus bill with funding to help with state revenue shortfalls. Florida also has a multibillion dollar "rainy day" fund that we will be encouraging legislators to draw from before cuts are considered. We hope to preserve the 2020 budget passed last year, which funds the state through the end of June.
We are currently watching five pieces of proposed legislation of particular interest to UFF and higher education. All include ideas and changes we have seen before:
UF-GAU members protest graduate assistant fees during a march on Turlington Hall at the University of Florida in the early 2010s. Photo courtesy of UF-GAU

Senate Bill (SB) 176 is UFF's proposed bill seeking fee relief for Graduate Assistants. (UFF has built bipartisan support for this over the past few years, and we have reason to believe it will pass.)
House Bill (HB) 6001 is a guns-on-campus bill (UFF Senate passed a resolution opposing this.)
SB 0052 is a large post-secondary education bill that includes changes to dual enrollment, among other things. (Watching.)
SB 220 is the latest attempt to remove state college and university president searches from the oversight required by Florida's Sunshine Laws. (UFF opposes. These decisions should be made transparently.)
SB 264 is a large bill that includes the political opinions survey. (UFF opposes requiring students and/or faculty to disclose their personal political opinions. This is also an unnecessary expense with no clear explanation of how this information would be used.)
UFF also will be active in watching the proposals that will be making their way through Congress, and in working with AFT's and NEA's higher education groups to ensure the best outcomes there. As all of this gets underway, UFF will be providing frequent updates to local chapter leaders, as well as regular updates to our members through email and town halls.
In the meantime, join us on social media and stay tuned. Find UFF on Facebook and Twitter.
Hello to a new executive director, and happy trails to a top-notch advocate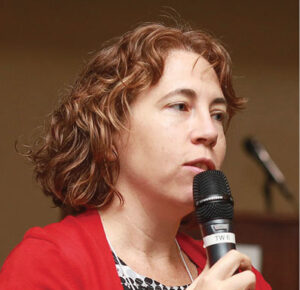 United Faculty of Florida begins the New Year with a new executive director, Candi Churchill. Churchill is a veteran UFF staffer who has excelled at all aspects of the job, but especially in organizing. Churchill oversaw the UFF Fellows program in recent years, helping it become one of the fastest growing chapters in FEA. She took the reins Jan. 4., stepping into the shoes of the retiring Marshall Ogletree.
This actually marks the second retirement for Ogletree, a highly respected advocate who had been brought back from retirement to help UFF through reorganization. Not only did he perform that duty exceptionally well, but he also was instrumental in improving UFF's legislative presence.
Churchill hopes to build on that legacy: "I am honored to be selected for the UFF executive director position. Higher education is a pillar of our democracy and, in Florida, there are no better advocates for our students and communities than the faculty, staff and graduate employees who make our universities and colleges so successful. UFF is going through a pivotal transition from a union that reacts and mobilizes to one that flexes its muscles and pushes our own agenda. I am looking forward to supporting our members as they stand up for health and safety, academic excellence, and fair working conditions for all."
Longtime UFF senator retires
History professor and UFF Sen. Jack McTague is retiring from St. Leo University. He arrived at St. Leo University in 1976 and became a UFF senator in the 1980s. He has been the vice president of the ICBC since 1990 and has always been an advocate for St. Leo University.
At the September Senate meeting, McTague was presented a plaque and addressed the body. He indicated that one of his favorite things about the UFF Senate is realizing that as bad you thought it was on your campus, they are facing just as many challenges on other campuses.