In a first for the Florida Education Association (FEA), our former president is now in one of the top roles with a national union, the 1.7-million member American Federation of Teachers (AFT). The role is new, but this is the same Fedrick Ingram. "I'm loving life," he said recently when reached while on the road for AFT. "I get a kick out of what I do, helping people."
Ingram led FEA from October 2018 through August 2020. He and his leadership team launched the Fund Our Future campaign for public education beginning in 2019, hit the road on the Fund Our Future Bus Tour in the fall of 2019, and drew 15,000 of our members and allies to Florida's Capitol on Jan. 13, 2020, for the Rally in Tallahassee. Ingram was at the helm of FEA when Covid-19 struck last March, then was elected secretary-treasurer of AFT in the thick of the pandemic. At FEA, then-Vice President Andrew Spar stepped up to the presidency, Carole Gauronskas became vice president, and Nandi Riley was elected as secretary-treasurer.
"I've probably had the most unique onboarding I've ever had in a job," Ingram said of his transition. Elected to AFT leadership on Sept. 1, within a month he was on another bus tour, this time traveling the nation with the AFT team to get out the vote for the 2020 elections.
After the Nov. 3 general election, he was on to the runoffs in Georgia, where a Jan. 5 vote would determine control of the U.S. Senate. Ingram was lead for the AFT group, which joined the thousands of campaign workers and volunteers working to motivate voters. It was an all-out effort — phone banking, door-knocking, literature drops, rallies, speeches — that resulted in the historic election of Democrats Raphael Warnock and Jon Ossoff.
Now AFT has moved into transition work with the new administration in Washington, D.C. Ingram expects to be working closely with the Biden-Harris administration and Congress on education projects and policy issues.
Looking forward, he's very optimistic. "I'm hopeful that we'll get rid of this virus, and that we'll have a new normal, one that's better than the old normal," Ingram said. "I think that having an administration that believes in our public schools, gives teachers hope that this thing called education is going to get a lot better, hopefully a lot sooner than anybody anticipated."
In his home state, however, he sees bumps in the road. "In Florida, it's going to be tough, and people are going to have to stay united. They're going to have to believe in each other, because there's still a state Legislature and unfortunately a governor who is still very much the same, who is still very much anti-public schools. That does not mean that we cannot force change. We're going to have to force change, and that means that people are going to have to put their voices together. They're going to have to take a stand for what's right."
Ingram will be keeping an eye on us in Florida while turning his attention to the wider world. AFT is a U.S. organization with global ties, and international affairs fall under his jurisdiction. "Once we are post-Covid, my world really picks up," Ingram said. "I will be traveling nationally and internationally to represent the teachers here in public schools, all over this world."
And rest assured, Fedrick Ingram will keep "loving life" wherever he roams.
Happy retirement to the person with the answers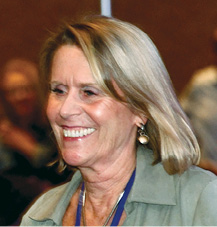 In December, we celebrated the retirement of a person you may have never heard of, but who's had quite an impact on the Florida Education Association: Patricia Wright. Pat, as she's known around the office, served for almost 25 years as the executive assistant to FEA United, then FEA leadership. Wright was the person to call when FEA members and staff needed to know an obscure piece of FEA history or know why something works the way it does. She'd always know it all: the good, the bad and the beautiful.
Wright was one of the first faces you saw when coming to FEA headquarters to meet with the officers, when arriving at the Governance Board and Executive Cabinet meetings, or even when waking up before dawn to attend caucus meetings at the National Education Association Representative Assembly (NEA RA). She's a staunch advocate for our members, a helpful mentor and a loyal friend. Because of Covid-19 safety restrictions, many members and staff did not have the opportunity to say goodbye, but we wish Wright the best in her retirement and remember her fondly at least five times a day, when we realize that the solution "Just ask Pat" no longer works. We'll miss you, Pat.
In memoriam: Those we've lost to Covid-19
The truth is, we don't know how many in our school communities have been lost to the coronavirus. Nor do we know how many have been directly impacted in other ways — by withstanding the virus themselves, by losing a family member or close friend, by losing household income or the roof over their heads.
Vaccines now promise to get our nation past the pandemic, but as this is written, Florida's teachers and education staff professionals still have not been given priority for the life-saving shots. That's not for lack of trying — our unions and members have called repeatedly for school employees to be allowed access to the vaccines.
According to reported figures on virus infections, about 50,000 PreK-12 students and employees, and more than 11,000 higher education students and employees are confirmed to have tested positive for Covid-19. Nine children of K-12 age have died.
As for the educators who have succumbed to the virus, we only know for certain of those noted in published news reports. On our Safe Schools Report we keep — as a way to remember and push for safer schools — a list of active Florida educators confirmed to have died from Covid-19 since Education Commissioner Richard Corcoran's July 6 reopening order.