The St. Johns Education Association honors the civil rights leader each year by lifting up students and strengthening relationships in its community.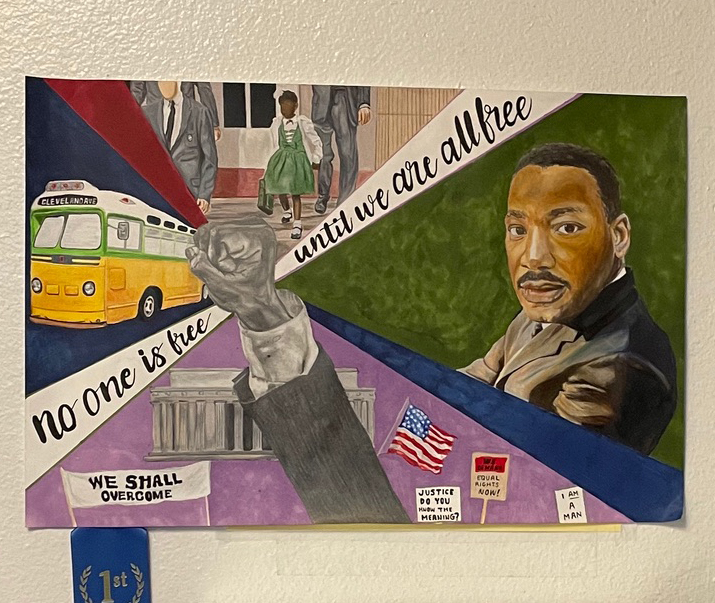 Celebrating the illustrious life of the Rev. Dr. Martin Luther King Jr. is a community-wide collaboration in historic St. Augustine, and the St. Johns Education Association (SJEA) is right at the center of events with annual poster and essay contests for students. The local union has played a leading role in memorializing the civil rights leader each January and February since at least 1994, and its efforts have been recognized repeatedly by the National Education Association (NEA).
The greatest rewards for participation, however, are local — in the benefits provided to kids, both in terms of learning and in the opportunity to be recognized for their creative work; and in the benefits provided to the community, local public schools and educators.
SJEA's participation "shows that we are just more than the people who bargain the contract," said local union President Michelle Dillon. "It shows us as an active and vital part of the St. Augustine community, and it is not only important, but it's so much fun. And every year I get so excited about the artwork."
She added, "I know I probably shouldn't call out a favorite year, but last year the (first-place high school) essay winner was, so — his essay was so outstanding. Local news media caught wind of it and interviewed him. He became quite the local celebrity."
Following in Dr. King's footsteps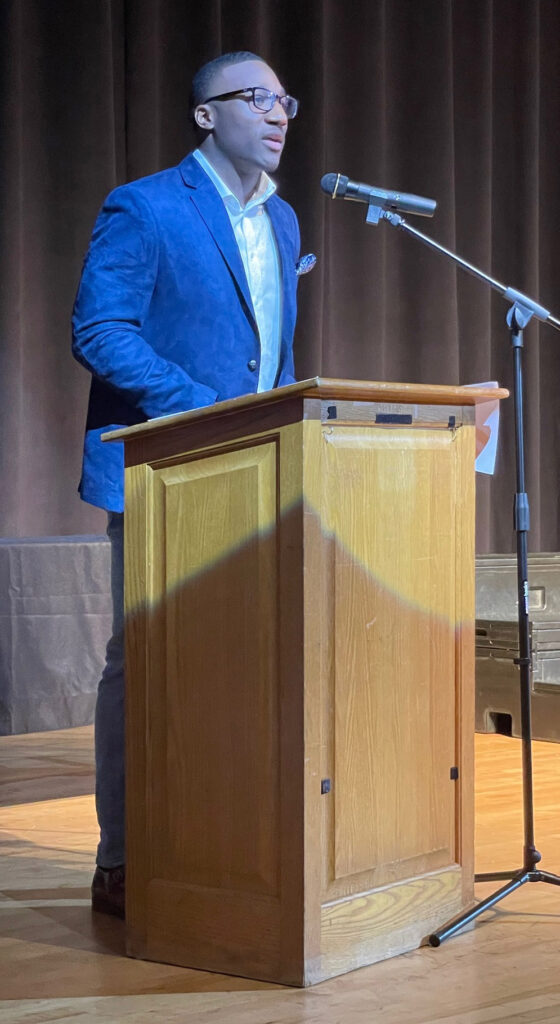 That winning high school senior, King Benford, received a standing ovation when he read his essay in front of the School Board on Feb. 8, 2022. Leading with "No one is free, until we are all free," the essay kept to the spirit of Dr. King to urge love toward and tolerance for all people:
"When we unselfishly seek the best for others, despite their differences, we have set ourselves free from selfishness and hate. We don't see them for the color of their skin, the god they serve, or even the gender they identify as, but we see them for the human they are and give them what every human being needs – the love of God."
Dr. King brought his message to Florida numerous times during the 13 years he spent in the national spotlight, and presented a version of his "I Have a Dream" speech in Miami three years before delivering it from the steps of Washington's Lincoln Memorial in 1963. In 1964, while the Civil Rights Act of 1964 was stalled in Congress, Dr. King and the Southern Christian Leadership Conference (SCLC) launched a campaign in support of the local movement to end racial discrimination in St. Augustine. The civil rights leader spent several weeks visiting the nation's oldest city, marching and speaking. He was even arrested there when he and fellow activists requested service at a segregated restaurant.
Today the leader's national legacy and time in St. Augustine are commemorated annually through events coordinated by a group of community leaders and activists, including from SJEA.
How the contests happen
Michelle Dillon and three other union members sit on the Dr. Martin Luther King Celebration Committee of St. Johns County, helping the group plan a commemorative breakfast, a silent march, and the poster and essay contests — the part for which the union is most responsible.
Planning starts early, and SJEA starts distributing the essay and poster contest rules to schools well before Thanksgiving. This year, entries are due Jan. 20, and an awards ceremony takes place in February, Black History Month.
The contests are open to elementary, middle and high school students in St. Johns' public schools, with first- through third-place awards given at each level. About 50 essays and at least 50 pieces of art were submitted in 2022, Michelle said. The prizes were Barnes & Noble gift cards along with a whole lot of positive attention at the annual awards ceremony.
"It's so much fun. … There are kids in suits and ties, and the top three essay winners from elementary, middle and high school read their essay out loud. If they are too nervous to do so, which we've encountered once in a while, I'll read it for them," Michelle said. "Sometimes the tiny ones, they really get the jitters, but you still want their words to be heard."
For the students themselves — and for educators and public schools — the positive impact of the poster contest can last far beyond the one awards night.
"The folks on the MLK committee have so many connections throughout our town, and once you start having conversations with them, I never force it, but start talking about the teacher vacancies and the needs of our support staff professionals. They're likely to take up that cause because we're kind of like-minded individuals in support of the public good. And they'll start having those conversations in other arenas as well. So you never know how far your influence can go in talking about how to support public schools."