With the help of a renowned artist, a lot of paint and elbow grease, students and members create masterpiece on school walls, reflecting school and community pride and their high expectations for students.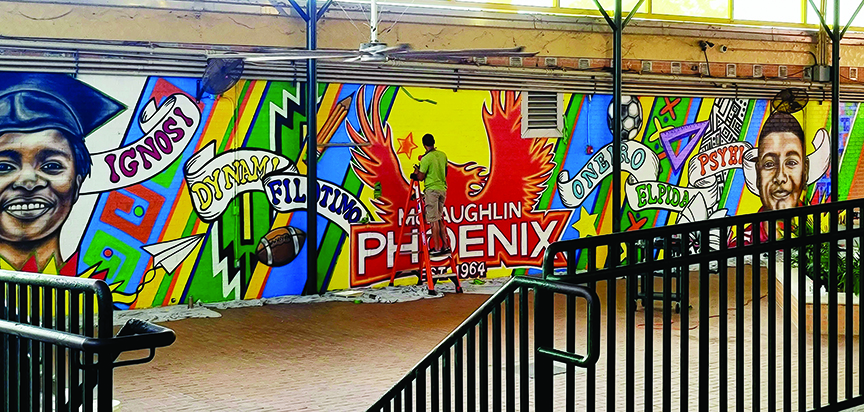 This summer, students, artists and members in Lake, Polk and Okeechobee counties have been busy painting their schools with their hopes and dreams. After obtaining a grant from AFT's We Paint Our Path program, FEA was able to support the creation of murals at three schools across the state, allowing students to participate in every step of the process, from design to execution.
McLaughlin Middle School in Polk County was one of the schools chosen because, as Polk Education Association President Stephanie Yocum explained, the school is currently undergoing a time of exciting rejuvenation. "We wanted to uplift the amazing things McLaughlin is doing because they just came out of turnaround status in a pandemic. The Lake Wales community as a whole is also undergoing a lot of community revitalization, so it just became a natural fit."
Dr. Debra Wright Hudson, principal of McLaughlin Middle School, was excited to work with renowned Virginia-based artist Hamilton Glass to create a mural that reflects what is best about her school and her students' visions for the future of the Lake Wales community. For Dr. Hudson, the mural represents progress. "The faces of the students in the mural clearly shows the progression from middle to high school as they explore the various athletic and extracurricular programs provided at McLaughlin," said Hudson. "Most importantly, the mural illustrates the high expectations for academic excellence which will socially, economically and civically impact the city of Lake Wales."
Yocum hopes other unions get the opportunity to take part in projects like this in the future. "I hope that more local unions have this opportunity because this kind of work is transformative," said Yocum. "And that's how we build power in our communities: By being part of our community, we invest in our community directly."
With support from We Paint Our Path and FEA, Leesburg High School in Lake County has recently completed a mural at their school, and another is being planned for Okeechobee High School's new building in the next two years.