By Andrew Gothard, President, United Faculty of Florida
As the new president of United Faculty of Florida (UFF), I am thrilled by the opportunity to serve our 8,600 members across 34 college and university chapters around the state. From grad students to full professors, classrooms to conference rooms, the Florida Panhandle to the Florida Keys, UFF serves a diverse and rapidly growing group of faculty and students who want to make the Florida higher education system the best in the world. I am honored by the support of my friends, colleagues and fellow union members, and I look forward to facing the challenges of the next two years with our union siblings by my side.
Together with UFF's new first vice president, Caitlin Gille of Pasco-Hernando State College, I hope to build upon the great work started by my predecessors and to see this union become a stronger rank-and-file union, where member-led, grassroots power transforms Florida education from the bottom up. Even during the restricted teaching, living and learning conditions necessitated by the Covid-19 pandemic, UFF's local chapters accomplished the following incredible feats:
Stand with faculty, students against 'viewpoint' law
House Bill 233, signed into law by Gov. Ron DeSantis on June 22, purports to protect intellectual freedom and viewpoint diversity on Florida higher education campuses but stands to accomplish the exact opposite. The law requires an "intellectual diversity" survey to be administered at colleges and universities. It also allows students to record classmates and instructors without their knowledge or consent. Where our campuses have been havens of free speech and expression, they would become subject to the policing of thought and speech. UFF is committed to fighting this law and its application on every front available to us, and we ask that you join us in that fight over the coming months.
As part of UFF's ongoing "10k Membership Challenge," our membership increased among university faculty, historically a challenging group to organize. The UFF chapter at the University of North Florida reached majority status for the first time in their history, and the chapter at the University of West Florida is only a handful of members away from 50 percent as well. Meanwhile, our chapters at Florida State University and the University of Florida are seeing a resurgence in organizing and widespread faculty interest after the shared experience of the pandemic and many legislative attacks.
We had more than 100 UFF member-lobbyists come to Tallahassee to speak on higher ed issues during the legislative session, we held over a dozen meetings with key local legislators and engaged in more effective legislative calling and letter-writing campaigns than ever before.
Our local chapters negotiated multiple agreements that protected the health and safety of faculty and students across the state, and successfully fended off widespread layoffs and austerity measures.
UFF at the University of Florida negotiated a true parental and medical leave benefit that sets a new standard in family-friendly policies in Florida.
UFF, specifically the local faculty and graduate student chapters, successfully organized against Commissioner of Education Richard Corcoran becoming president of Florida State University.
In the coming year, we hope to increase UFF's effectiveness in each of these areas, while expanding into new initiatives with communications campaigns, diversity and inclusivity programs, and increased organizing activities. However, much of our energy will be oriented toward a coordinated response to HB 233, the latest attack on higher education to come out of the 2021 Florida Legislative Session.
At UFF, we believe in the power of collective action, which has been demonstrated repeatedly throughout our union's history. Together, we will remake Florida higher education — one member at a time.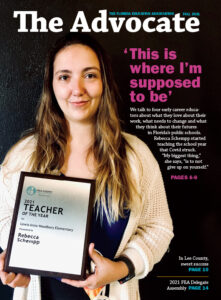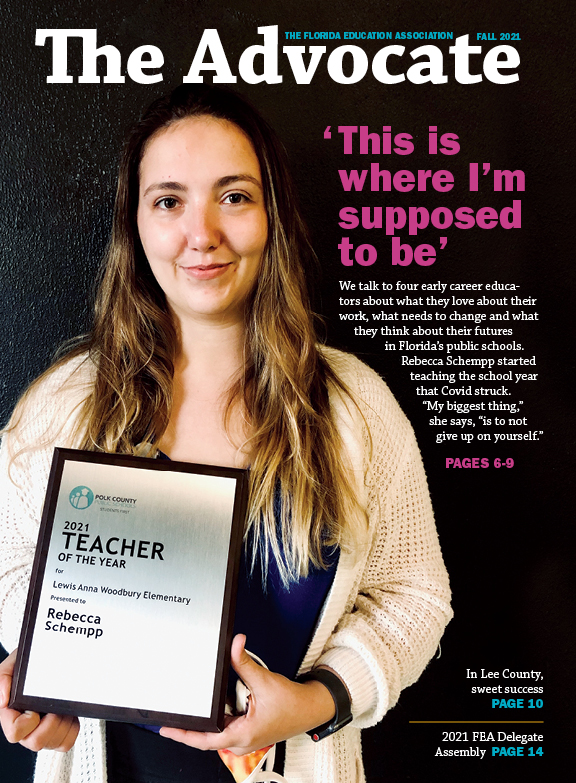 This article appeared in the Fall 2021 issue of The Advocate, the official publication of the Florida Education Association.
Andrew Gothard teaches English at Florida Atlantic University (FAU). He got his start in union work by door-knocking for membership recruitment for his local chapter, UFF-FAU. Andrew was elected president of UFF this year.
Connect with the United Faculty of Florida online at https://myuff.org or on Facebook, https://bit.ly/UFF-Facebook.