Fedrick C. Ingram, President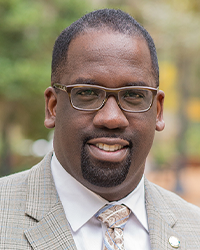 Fedrick C. Ingram is president of the Florida Education Association (FEA). With more than 140,000 members, the FEA is the state's largest professional organization, representing pre K-12 teachers, higher education faculty, educational staff professionals, students at state colleges and universities preparing to become teachers, and retired education employees.  
Fedrick grew up in inner-city Miami and attended public schools. Pursuing his love of music, he attended Bethune Cookman University on scholarship and became the first member of his family to earn a post-secondary degree, in music education.
He would go on to be a music teacher and band director in Miami-Dade public schools for 10 years. Fed is also an accomplished musician in his own right and has performed throughout the state and nationally as a commercial artist.
In 2006, he was named the Francisco R. Walker Miami-Dade County Teacher of the Year. He was also a finalist for the State of Florida Teacher of the Year Award in 2006.
In May 2013, he was elected president of the United Teachers of Dade (UTD), which represents employees of the fourth-largest school district in the nation. He held that post until 2015, when he was elected vice president of the FEA. In 2018, he won election as FEA president.
Along with his leadership team, Fedrick envisions a new era for the Florida Education Association, with members united to achieve their goals for public education.
"We are marching forward together as one union, ready to take on those who have used their power to drain our public schools not only of desperately needed funding, but of the joy of learning. We will be fearless as we stand against those who would harm public education, but we will also reach out across political lines to build bridges and enlist new allies as we work to improve learning conditions for our students and working conditions for educators," Fedrick said.
"Nationally, our state ranks 44th in per-student revenue, 45th in teacher pay and 47th in pay for our education staff professionals. Higher education faculty and adjuncts continue to experience stagnant salaries, too many Floridians are struggling with student debt, and our schools are facing an unprecedented teacher shortage. It's time for our state to do better for its citizens and our public schools. We must not continue to shortchange the future."
Fedrick is in frequent demand as a speaker, lecturer and presenter, and is recognized nationally for his workshops and presentations specific to community organizing. He is also an elected vice-president of the American Federation of Teachers Executive Council, making decisions that guide 1.7 million AFT members nationwide.
In May 2013, the Miami Herald's Legacy magazine named Fedrick as one of South Florida's 50 most powerful black business leaders. He is also a recipient of the prestigious JM Family African-American Achievers Award, given to leaders who have exemplified excellence in their respective fields.  
In addition to his bachelor's degree from Bethune-Cookman, Fedrick earned a master's degree in educational leadership from Barry University. He also holds an honorary doctorate of humane letters awarded by Florida Memorial University. 
He is married to Yvetta Ingram, and they have three children, all of whom have attended public schools.
Andrew Spar, Vice President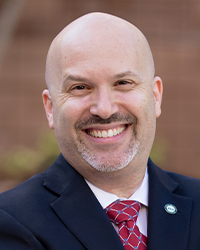 Andrew Spar is vice president of the Florida Education Association (FEA), the state's largest association of professional employees. He also serves as secretary-treasurer for the Florida AFL-CIO.
Andrew was born and raised in the suburbs of New York City, attending public schools.
A violinist since age 6, he earned his bachelor's degree in music education from Ohio State University, graduating in 1994.
That same year, he came to Daytona Beach to teach at Turie T. Small Elementary School, where more than 90 percent of the students lived in poverty.
The music teacher soon found his voice as an advocate and has worked ever since on behalf of public school students, schools, teachers and education staff professionals.
"I could not read when I was in first grade," Andrew recalls. "I struggled in school. But the educators in my life were empowered to make my success a priority, and that's just what they did. I want the same world for my family and for all of Florida's children."
At Turie T. Small, Andrew served as school-improvement chair for two years and as a union steward for seven years. He would go on to become president of his local union in May 2003 and led Volusia United Educators until he was elected FEA vice president in October 2018.
During his 15 years leading the Volusia union, Andrew negotiated 14 contracts, handled numerous grievances and arbitrations, and spent many long hours advocating for members and working families.
In 2017, he led the merger of the Volusia Teachers Organization (VTO) and the Volusia Educational Support Association (VESA) to create Volusia United Educators (VUE). The new union has nearly 3,800 members and represents more than 6,000 teachers, paraprofessionals and office specialists in Volusia County Schools.
Throughout his career, Andrew has served on various committees and taskforces for the American Federation of Teachers (AFT). He also spent eight years on the Executive Cabinet of the FEA and has served on the Executive Board of the Florida AFL-CIO, becoming the organization's secretary-treasurer in January 2016.
Andrew is married to Vernell Spar, who is also a public school music teacher. The Spars have two daughters, and both girls attend public schools.
Carole Gauronskas, Secretary-Treasurer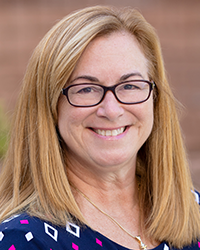 Carole Gauronskas is secretary-treasurer of the Florida Education Association (FEA), the state's largest association of professional employees.
Carole is the first education staff professional to be elected as an officer of the FEA, and previously worked as an exceptional student education (ESE) paraprofessional at Ketterlinus Elementary School in St. Augustine, Fla.
In her work and within the larger community, Carole has always been driven to serve.
"My father was an educator for more than 30 years, and his mantra was, 'When much is given, much is required.' I've lived by that mantra my entire life," Carole says. "I have 86,400 seconds a day to make a difference. I don't take one of those seconds lightly."
Carole was born in Cortland, N.Y., and attended public schools in Florida, New Jersey and New York before entering The Berkeley School of New York to earn a business degree. Carole began a career in banking in New York City, then met her future husband on a business trip and moved to Michigan to begin married life in 1986. She worked her way from opening a large convention center hotel to 10 years with La-Z-Boy Inc. In 1998, her husband was transferred to Florida, and the family moved to St. Augustine.
Carole came to Ketterlinus Elementary School in 2000 as a parent, serving initially as a volunteer. She wore many hats at the school: volunteer coordinator, newsletter editor, Title I liaison, computer lab instructor and, for nine years, ESE paraprofessional. In 2008, Carole was the School Related Employee of the Year at Ketterlinus.
She served as an advocate for the members of the St. Johns Educational Support Professional (ESP) Association for several years, first as a school representative and beginning in May 2015 as local union president. Carole has held leadership positions on numerous councils and teams within her school district and union, and has given many hours as a church and community volunteer. In 2018, she received FEA's Educational Support Professional of the Year award. In October 2018, she was elected secretary-treasurer of the organization.
Carole and her husband, David, have one son. Adam is a graduate of St. Johns County public schools and attends St. Johns River State College.