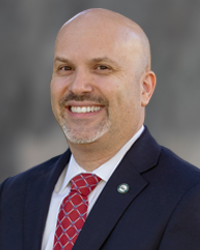 Andrew Spar, President
Andrew Spar is president of the Florida Education Association (FEA), the state's largest association of professional employees.
Andrew was born and raised in the suburbs of New York City, attending public schools.
A violinist since age 6, he earned his bachelor's degree in music education from Ohio State University, graduating in 1994.
That same year, he came to Daytona Beach to teach at Turie T. Small Elementary School, where more than 90 percent of the students lived in poverty.
The music teacher soon found his voice as an advocate and has worked ever since on behalf of public school students, schools, teachers and education staff professionals.
"I could not read when I was in first grade," Andrew recalls. "I struggled in school. But the educators in my life were empowered to make my success a priority, and that's just what they did. I want the same world for my family and for all of Florida's children."
At Turie T. Small, Andrew served as school-improvement chair for two years and as a union steward for seven years. He would go on to become president of his local union in May 2003 and led Volusia United Educators until he was elected FEA vice president in 2018. In September 2020, he was named FEA president after the previous president, Fedrick Ingram, was elected secretary-treasurer of the American Federation of Teachers (AFT).
During his 15 years leading the Volusia union, Andrew negotiated 14 contracts, handled numerous grievances and arbitrations, and spent many long hours advocating for members and working families.
In 2017, he led the merger of the Volusia Teachers Organization (VTO) and the Volusia Educational Support Association (VESA) to create Volusia United Educators (VUE). The new union has nearly 3,800 members and represents more than 6,000 teachers, paraprofessionals and office specialists in Volusia County Schools.
Throughout his career, Andrew has served on committees and taskforces for the AFT. At FEA, he spent eight years on the Executive Cabinet. Andrew also has served on the Executive Board of the Florida AFL-CIO and was secretary-treasurer of the organization from January 2016 until September 2020.
Andrew is married to Vernell Spar, who is also a public school music teacher. The Spars have two daughters, and both girls attend public schools.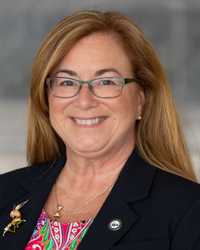 Carole Gauronskas, Vice President
Carole Gauronskas is vice president of the Florida Education Association (FEA), the state's largest association of professional employees.
Carole is the first education staff professional to be elected as an officer of the FEA, and previously worked as an exceptional student education (ESE) paraprofessional at Ketterlinus Elementary School in St. Augustine, Fla.
In her work and within the larger community, Carole has always been driven to serve.
"My father was an educator for more than 30 years, and his mantra was, 'When much is given, much is required.' I've lived by that mantra my entire life," Carole says. "I have 86,400 seconds a day to make a difference. I don't take one of those seconds lightly."
Carole was born in Cortland, N.Y., and attended public schools in Florida, New Jersey and New York before entering The Berkeley School of New York to earn a business degree. Carole began a career in banking in New York City, then met her future husband on a business trip and moved to Michigan to begin married life in 1986. She worked her way from opening a large convention center hotel to 10 years with La-Z-Boy Inc. In 1998, her husband was transferred to Florida, and the family moved to St. Augustine.
Carole came to Ketterlinus Elementary School in 2000 as a parent, serving initially as a volunteer. She wore many hats at the school: volunteer coordinator, newsletter editor, Title I liaison, computer lab instructor and, for nine years, ESE paraprofessional. In 2008, Carole was the School Related Employee of the Year at Ketterlinus.
She served as an advocate for the members of the St. Johns Educational Support Professional Association (SJESPA) for several years, first as a school representative and beginning in May 2015 as local union president. Carole has held leadership positions on numerous councils and teams within her school district and union, and has given many hours as a church and community volunteer. In 2018, she received FEA's Educational Support Professional of the Year award. In October 2018, she was elected secretary-treasurer of the organization. Carole was named vice president in September 2020, when then-Vice President Andrew Spar rose to the presidency following the departure of the previous president, Fedrick Ingram, to become secretary-treasurer of the American Federation of Teachers (AFT).
Carole and her husband, David, have one son. Adam is a graduate of St. Johns County public schools and attends St. Johns River State College.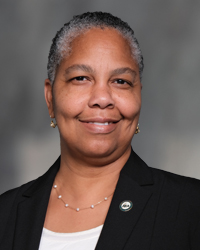 Nandi Riley, Secretary-Treasurer
Nandi Riley is the secretary-treasurer of the Florida Education Association (FEA), the state's largest association of professional employees.
While it was not easy to be the first-born child of two very passionate educators, Nandi often reflects on how that experience has shaped her life. Her father retired from the Broward County school system after a lifetime in the classroom and years as an active member of the Broward Teachers Union.
Her mother took a detour, as many mothers did in those times, to raise a family prior to entering the classroom and now at 74 years old has returned to teaching, post retirement, as a nationally board-certified teacher specializing in Montessori for ages 3 to 6.
Both parents broke ground for the very foundation of what Nandi was meant to become, an educator and union member.
Nandi graduated from Florida A&M University (FAMU) with a bachelor's degree in English education in 1999 and entered the classroom in Gadsden County. Gadsden County is where Nandi started her FEA journey. She joined the union and became a building representative during the 1999-2000 academic year. She experienced her first delegate assembly in 2000 and witnessed the FEA merger. The very next year, she was recruited to return to the university as a faculty member and continued to pursue union work in higher education.
She has long been involved with her union at the campus, state, and national level. When named to FEA leadership in September 2020, Nandi was serving as the secretary of the FAMU United Faculty of Florida (UFF) Chapter, a member of the UFF Steering Committee, the higher education director on the Florida Education Association's Executive Cabinet and the treasurer of the National Council of Higher Education.
Community involvement is also an important part of Nandi's life. She has volunteered with Opening Nights at Florida State University, Hugh O'Brian Youth Leadership, University Center Club of Tallahassee, FAMU Boosters and the Tallahassee International Airport, and has been a member of the Tallahassee Community Chorus for several years.
Nandi earned her undergraduate degree in English education, as well as two master's degrees, one in English education and the other in counselor education, from Florida A&M University. Beyond her academic achievements, Nandi is the eldest of eight, mother of an adult daughter, daughter of educators and a dedicated union member.