Florida's kids deserve the best, and educators across our state are committed to seeing that they get it. Fueled by the success of the "Take on Tallahassee" rally in January, local union leaders in Central Florida joined together to build on the momentum with a rally in February.
Hundreds of teachers, education staff professionals, community members and parents poured into Orlando's Lake Eola Park on Saturday, Feb. 15, and rallied in support of more funding for public schools and better learning conditions for our students. It was a family- and community-oriented event with a purpose. 
Additional Coverage: 
Teachers, activists flock to Lake Eola to rally for improved public education funding, Orlando Sentinel, Feb. 15

Teachers Rally in Orlando for Higher Pay, More Funding for Public Schools, WMFE, Feb. 15

Teachers rally in Orlando for better wages, more school funding, WOFL Fox 35, Feb. 15

Central Florida educators bring Tally rally to Lake Eola Park this weekend, Orlando Weekly, Feb. 13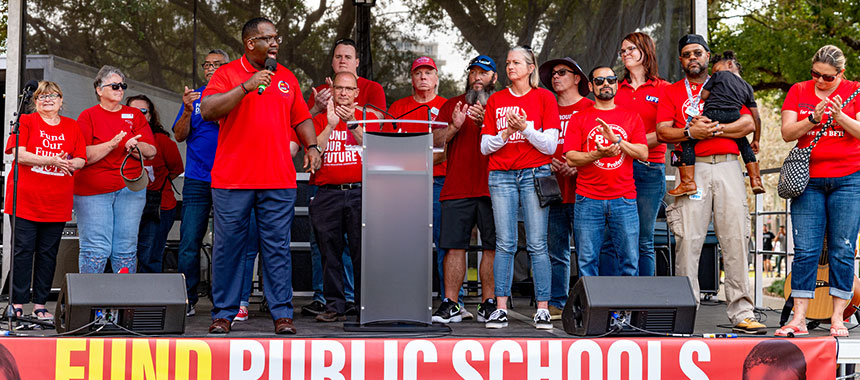 Fifteen unions worked together to sponsor the event:
Brevard Federation of Teachers
Hillsborough Classroom Teachers Association
Indian River County Education Association
Lake County Education Association
Orange County Classroom Teachers Association
Orange Education Staff Professional Association
Osceola County Education Association
Polk Education Association
Seminole County Bus Drivers Association
Seminole Education Association
Seminole Educational Clerical Association
Non-Instructional Personnel of Seminole County
United Faculty of Florida at UCF
Student FEA – UCF
Volusia United Educators
Speakers included: FEA President Fedrick Ingram and Vice President Andrew Spar; parent Denise Diaz; student Suhan Roario; state Reps. Ana Eskamani, Joy Goff-Marcil, Amy Mercado and Carlos Guillermo Smith; Stephanie Yocum, president of the Polk Education Association; Bill Townsend of the Polk County School Board; and Karen Castor Dentel of the Orange County School Board.