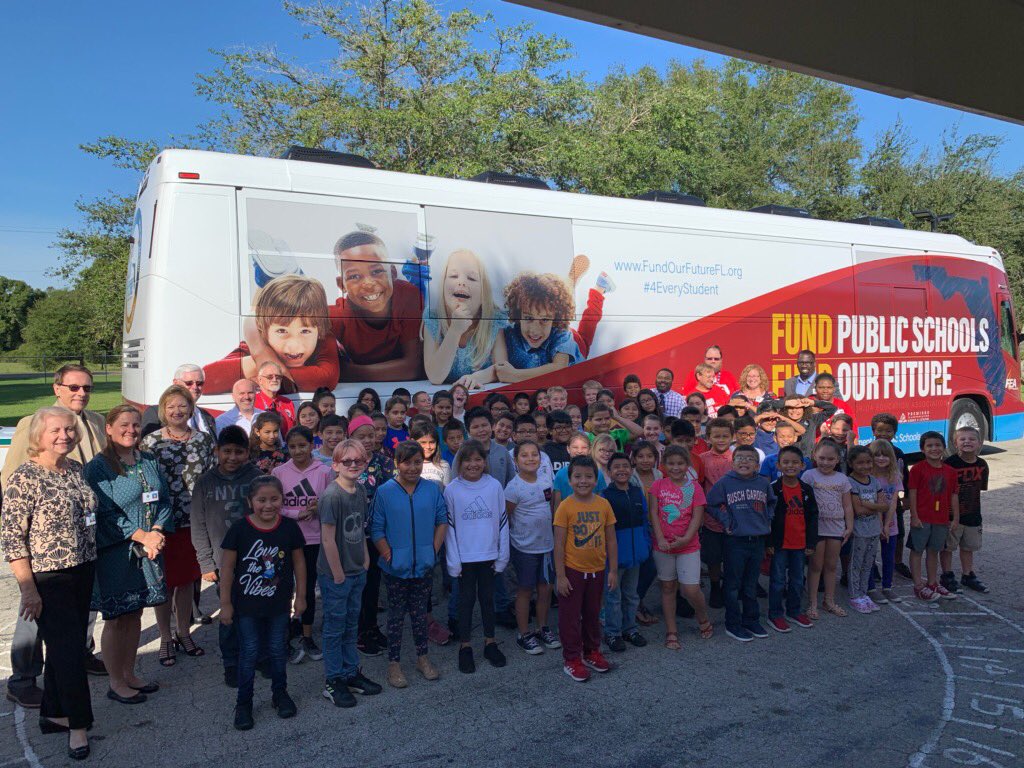 In the fall of 2019, FEA leaders and staff hit the road in a big red bus to spread the word about the needs of Florida's students, public schools and all the people essential to providing kids with a great education. The Fund Our Future Bus Tour criss-crossed the state, making stops from Pensacola to the Florida Keys. Local educator unions helped make the whole effort possible, pitching in to sponsor events and school visits.
The tour was about spreading the Fund Our Future message and about connecting — with parents, students, teachers and school staff, community activists, faith leaders and anyone concerned about public education. 
Ultimately, the tour and FEA's entire Fund Our Future campaign are about making a difference for Florida's students — by moving the Legislature to correct 20 years of wrong-headed education policy and more than a decade of disinvestment in public schools.
The next stop in FEA's Fund Our Future campaign will be in the state capital on Jan. 13 for the Take on Tallahassee Rally for Public Education. The bus won't be present, but there will be a sea of "Red for Ed" as thousands gather in support of our students and public schools.
TOUR LAUNCH: Oct. 18, 2019, at the Rosen Centre in Orlando during the 2019 Florida Education Association Annual Delegate Assembly
FIRST STOP: Oct. 21, 2019, in Bay County
LAST STOP: Nov. 23, 2019, in Orange County
TOTAL STOPS: 78 in 34 counties
DISTANCE TRAVELED: 3,580 miles
PEOPLE REACHED DIRECTLY: More than 55,000 students, parents, educators and community members
Social media posts and photos offer a detailed look at our travels from Oct. 21 to Nov. 23. Click on a week, each of which is listed with counties visited, to see collected posts for that leg of the tour.   
WEEK 1:  Bay, Gadsden, Washington, Okaloosa, Santa Rosa, Escambia 
WEEK 2:  Leon, Suwanee, Gilchrist, Bradford, Alachua, Marion, Hernando
WEEK 3:  Manatee, Collier, DeSoto, Pinellas, Hillsborough
WEEK 4:  Brevard, Okeechobee, St. Lucie, Palm Beach, Miami-Dade, Broward, Monroe
WEEK 5:  Duval, Clay, Nassau, St. Johns, Volusia, Seminole, Osceola, Polk, Orange
Reports about the Fund Our Future Bus Tour appeared in newspapers and on TV and radio stations throughout the state. On the day the tour launched, Spectrum News 13 in Orlando put the event on the evening news. From that time and into December, at least 39 mainstream media outlets published or broadcast one or more stories referencing the tour.
CLICK HERE for a roundup of the headlines and links to full news articles and broadcasts.
The Issues Behind the Action
What drove the leaders of the Florida Education Association to set out on a 3,580-mile journey in support of public education? Look no further than Florida's history, and consider how lawmakers have treated students, public schools and educators for the past two decades. To learn more about the issues, check out this multi-part series: