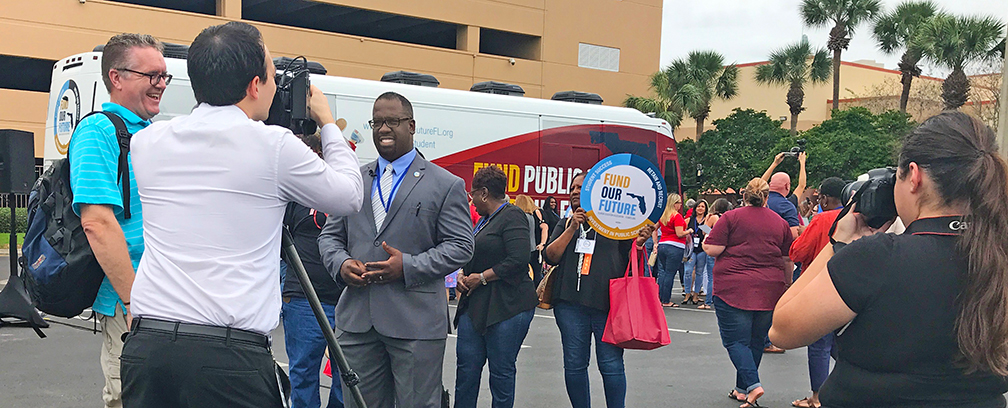 The red Fund Our Future bus made the news wherever it stopped, offering ample opportunity for FEA leaders to share our message about the overwhelming need for Florida's lawmakers to invest in students, educators and public schools. Many local leaders also spoke with reporters and were featured in articles and broadcasts.
From its launch on Oct. 18 to the final stop on Nov. 23, the tour was covered by newspapers, TV, radio, news websites and podcasts. Our journey continued to inspire articles into December.
Below is a roundup of reports that focus on the bus tour or a particular stop, reference the tour, or happened because of the tour, as local media outlets reached out to interview FEA and local union leaders when the bus arrived in their area.
» Florida teachers launch bus tour to rally for more school funding, Orlando Sentinel (10/18/2019)
» Florida Teachers Try to Rally Support for Public Education with Bus Tour, Spectrum News 13 Orlando (10/18/2019)
Also*: Spectrum Tampa Bay News 9
» Teachers will Tour the State on a Red School Bus to Promote Higher Pay, More Classroom Resources, WMFE-FM Orlando (10/18/2019)
» FEA gives local students free books, Panama City News Herald (10/21/2019)
» Books given to every single student at Breakfast Point Academy, WMBB ABC 13 Panama City (10/21/2019)
» First Book provides local students with free books, WJHG NBC News 7 Panama City (10/21/2019)
» Fund Our Future Statewide Bus Tour visits Roulhac Middle School, Chipley Foster Folly News (10/22/2019)
» Florida Education Association Embarks On Thirty County Tour, WFSU-FM Tallahassee (10/22/2019)
Also: WLRN-FM Miami, WJCT-FM Jacksonville
» State Teachers Union starts 5-week bus tour, Sebring Highlands News-Sun (10/23/2019)
» FEA to continue 'Fund Our Future' bus tour with stops in Leon, Alachua counties, Florida Politics (10/28/2019)
» Teachers union seeks massive increase in school funding, Capitol News Service (10/28/2019)
Also: WCTV-TV Tallahassee, WJHG-TV Panama City, WJXT-TV Jacksonville
» Union Teachers Ride the Bus for More State Money, WFLA-AM 540 Tampa (10/28/2019)
Also: WJNO-AM West Palm Beach, WDAE-FM Tampa Bay, other iHeart radio stations across the state
» Florida teachers union's cross-state bus tour for public school money rolls into Tallahassee, Tallahassee Democrat (10/28/2019)
Also: Pensacola News-Journal, other Gannett newspapers
» Gradebook podcast: Why are Florida teacher union leaders riding a bus around the state?, TampaBay.com (10/31/2019)
» DeSantis And Teacher Union At Odds On How To Best Compensate Teachers, WUSF-FM Tampa (11/01/2019)
Also: WFSU-FM  Tallahassee
» Chicago teacher strike ends; why can't Florida teachers strike? Florida Phoenix (11/02/2019)
» Florida Teacher Bus Tour Addresses Educator Issues, WUSF-FM Tampa (11/05/2019)
» Free books a reward for students at Rogers Garden-Bullock, Bradenton Herald (11/05/2019)
» Amid pressure from the state, Manatee school improves its grade. So they had a party, Bradenton Herald (11/06/2019)
» Florida teachers take stand in fight for higher pay with 'Fund Our Future' bus tour, WFTS ABC Tampa Bay (11/06/2019)
Also: WFTX FOX Fort Myers
» Sunburn — The morning read of what's hot in Florida politics– 11.12.19, Florida Politics (11/12/2019)
» Florida union recruits Brevard educators for largest teacher rally in state history, Florida Today (11/12/2019)
» Fund our Future bus tour, Florida Today (11/12/2019) [PHOTO GALLERY]
» Florida 'can afford to do right by students,' Let's tell our lawmakers. | Opinion, South Florida Sun Sentinel (11/12/2019)
» Florida education news: Rally in Tally, Tampa Bay Times (11/13/2019)
» Sunburn — The morning read of what's hot in Florida politics — 11.13.19, Florida Politics (11/13/2019)
» 'Fund Our Future Bus Tour' visiting West Palm Beach Wednesday night for public education forum, WPTV NBC 5 West Palm Beach (11/13/2019)
» Education officials fighting to get more funding for public schools, WPEC News 12 Palm Beach County (11/13/2019)
» Sunburn — The morning read of what's hot in Florida politics — 11.14.19, Florida Politics (11/14/2019)
» Teachers Union Leaders Advocate For More School Funding During Broward Bus Tour Stop, WLRN-FM Miami (11/15/2019)
» South Florida school officials call for more funding after DeSantis unveils new bonus program, WSVN FOX Miami (11/15/2019)
» Sunburn — The morning read of what's hot in Florida politics — 11.21.19, Florida Politics (11/21/2019)
» Florida Education Association challenges governor's budget proposal for education, ActionNewsJax.com (11/21/2019)
» Union leaders ride the bus for school funding in Florida, Daily Communicator (11/21/2019)
» Education Notebook: Florida Education Association inspires future teachers, St. Augustine Record (11/21/2019)
» Sunburn — The morning read of what's hot in Florida politics — 11.22.19, Florida Politics (11/22/2019)
» Some Osceola Teachers Not Happy About Pay Raise Plans, Spectrum News 13 Orlando (11/22/2019)
Also: Spectrum Tampa Bay News 9
» Teachers have had it, FEA president says as bus tour winds up, Florida Politics (11/22/2019)
» Education Summit: Pay state's teachers more, Lakeland Ledger (11/23/2019)
» Stop scrimping on teacher pay, Florida Times-Union, Jacksonville (11/28/2019)
» Capital Report: A Look At DeSantis' K-12 Budget Asks; FEA Plans Pre-Session Rally, WLRN-FM Miami (12/02/2019)
» Local educators to meet in Tallahassee, fight for increase in state funding, Sanford Herald (12/04/2019)​
» FEA president discusses teacher pay on "The Weekly," WKMG-TV CBS Orlando/ ClickOrlando.com (12/08/2019)
*Re-publications or re-broadcasts of a report by other media outlets are listed following "also."