HSEF is growing — in numbers and in members' unionism — as the union stands strong against efforts to privatize the school district's custodial services. The battle is not yet over, but the union has many allies.
Iran Alicea, president of the Hillsborough School Employees Federation (HSEF), has been working in education for about 14 years, and came to our schools after a 20-year career as an NYPD detective. Upon retirement, he moved to Florida and began a second career, applying for a school security officer position.
Iran joined the union as soon as the job started. Since then, he has taken on several roles, including Executive Board member, vice president for HSEF Collective Bargaining and HSEF vice president. He has been president of the union for about seven years.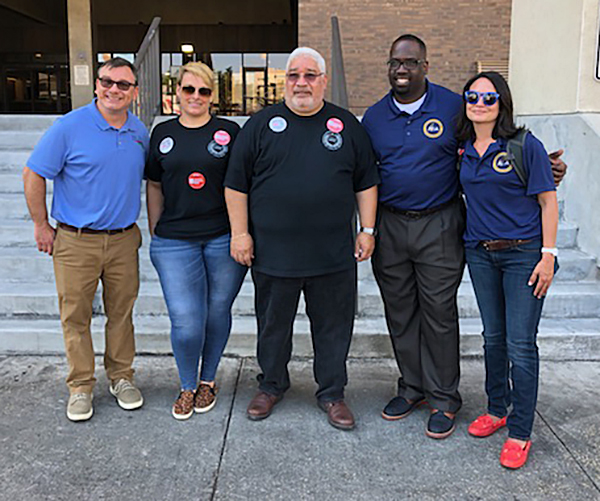 Q&A
With President Alicea
ABOUT THE UNION
What would you like for people to know about HSEF?
HSEF is an ESP union. We cover School Security, Maintenance, Custodial Services, Student Nutrition Services and Transportation. Members and leaders work tirelessly to create a work culture where all employees are valued for what they do.
What is the union's proudest achievement?
We pride ourselves in the growth this union has seen over the last five years, not only in membership but in the growth of unionism in our members. I believe we have changed the culture of this union and proved to them that together we are stronger!
What has HSEF union been doing that's exciting?
Some people might not think this is exciting news because the fight to stop privatization of our custodial services is not over, but for our members this fight has helped them find their voice, and that is exciting. We have picketed in front of the School Board building, where more than 200 members showed up to support our custodians. We collaborated with our sister/brother unions, and because of that teachers and other union members from the community joined us on the picket line. We are still fighting to stop this threat and save our custodians.
What would you would tell the Legislature on behalf of members — what are your big issues?
Fund our public schools and stop the attacks on our unions. Our students deserve a world class education, and our members deserve to be able to organize and speak up for students, our schools and their colleagues.
ABOUT THE PRESIDENT
What is the best part of being president of your local?
Meeting new members and seeing the union fire in their eyes, Knowing they will be the ones who continue to carry the torch and make this union even stronger.
How would you explain why union membership is important to someone who is not yet a member?
It is like being part of an exclusive club where everyone can join and once you are in you have an instant family who will have your back every step of your career.
What first prompted you to join?
For someone like me it is in your blood. I have been a union member from the time I started working, and I will be a union member till the day I die.
What should we know about you — or, what inspires you?
I'm inspired by the opportunity we have as long-time unionists to influence the next generation. UNION STRONG!!!