Day 19: Tuesday, November 19
The morning started with a meeting of faith leaders to discuss the importance of public education.
Thanks to @pastors4flkids for having us this morning! We are striving to connect with every community group that supports public education. #4EveryStudent pic.twitter.com/O7mFJHXFjs

— Florida Education Association (@FloridaEA) November 19, 2019
The bus also stopped by Clay County Education Association for their annual Thanksgiving dinner for the CCEA union stewards. Four school board members and the Clay superintendent were in attendance as well.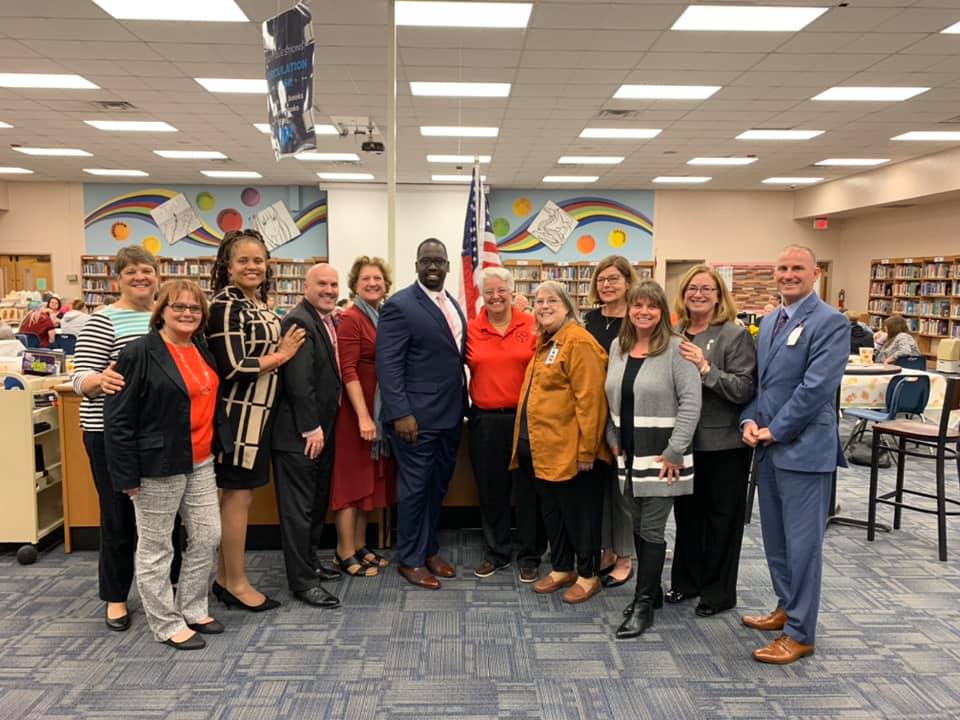 Day 19 wrap-up:
We had some great meetings with community members, pastors, educators and editorial boards today! Everyone is excited and making their plans to join us on January 13. Are you? #4EveryStudent @fedingram @andrewsparfea @cgauronskas pic.twitter.com/MsszViiJ8z

— Florida Education Association (@FloridaEA) November 20, 2019
Day 20: Wednesday, November 20
The day began in Nassau County with meetings with community leaders and included recognition of education staff professionals on national ESP day. 
Excellent meetings this morning with community leaders and members in Fernandina Beach, all while we celebrate our Education Staff Professionals! #4EveryStudent #AEW2019 pic.twitter.com/tLgfQxKseq

— Florida Education Association (@FloridaEA) November 20, 2019
Also on the agenda was a very inspiring visit to the Florida School for the Deaf and Blind.

Day 21: Thursday, November 21
The day started in Seminole County where the #FundOurFutureFL message was shared with representatives from the local PTSA and Moms Demand Action. 
November 21, 2019
In Osceola County, supporters of public education gathered to advocate for better conditions for students and educators.
The day ended with a packed house in Polk County for a community conversation.
Finishing up a community conversation in Polk County. The local NAACP, PTA and Supervisor of Elections were all in attendance. Thanks for having us! #4EveryStudent pic.twitter.com/i8qdKlV119

— Florida Education Association (@FloridaEA) November 22, 2019
Day 22: Friday, November 22
The day in Orange County got off to a great start at a breakfast with community leaders and activists to discuss our #FundOurFutureFL message.
OCPS Academic Center for Excellence in Orlando was the last school we visited on our five-week tour across the state.
Wrap-Up of the tour
Day 23: Saturday, November 23