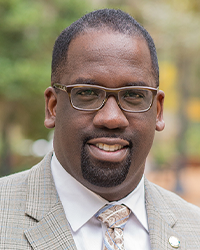 This time of year, just prior to Labor Day, is always a time of transition for all of us involved in education. The beginning of the school year is a fresh start. This year, for me, the change is bittersweet.
Last month, at the American Federation of Teachers national convention, my name was placed in nomination to become AFT's secretary-treasurer. This month, convention delegates voting by mail ballot elected me to that office. In September, I will assume my role as the chief fiduciary and one of the top two officers of one of our nation's largest unions, representing 1.8 million educators in PreK-12 and higher education, along with others employed in the public sector.
Looking forward: Watch the remarks by newly-elected officers of the AFT: President Randi Weingarten, Secretary-Treasurer Fedrick Ingram and Executive Vice President Evelyn DeJesus.
This new position will necessitate that I leave my position as FEA president and relocate with my family to Washington, D.C. This is not easy for me. I'm a product of the Sunshine State and Florida's public schools. I grew up in Miami-Dade, lived with my wife and children in Broward, attended college in Central Florida and now reside in North Florida.
I've had an amazing and blessed journey, starting out as a poor kid with a stutter living in Miami's housing projects. I'm the child of parents, both Florida natives and union members, who taught me the sky was the limit, so long as I worked hard, respected those around me and valued education.
They were right. Florida and the Miami-Dade County Public Schools afforded me with an education and gave me the personalized learning that allowed me to overcome my stutter, master music, excel in academics, go on to college and return to the classroom as a teacher.
A good teacher or mentor can instill skills and confidence that can make a world of difference. I was reminded of this recently when I witnessed 13-year-old Brayden Harrington overcome his stutter to address millions of viewers at the Democratic National Convention.
That moment was incredibly special for me. That national address was made possible because Joe Biden helped Brayden boost his confidence and gave him some tips on how to improve his speech.
In a similar manner, I could barely speak when I started school. My life turned around when a music teacher taught me to sing. Through music, I learned to control my stutter, to speak in public, and as a result I gained the desire to go on to become a public school teacher and mentor to others.
Since I left the classroom to become a full-time union officer, Florida educators have continued to be by my side in the constant battle for education funding for students and schools and professional rights for our members, first at the United Teachers of Dade and later in my role at FEA. Working together, we've negotiated contracts to improve opportunities for tens of thousands of students – and to improve wages and working conditions for thousands of teachers and other educators.
As a high school bandleader I learned that there is a time to march and a time to stand your ground. After I became FEA president, many of you joined me as we marched on Tallahassee or journeyed across the state to deliver a message in support of Florida's public schools and on behalf of education professionals. You stood with me as we held our ground to hammer out budgets and legislation affecting our entire state – and more than once headed to court to take a stand against injustice.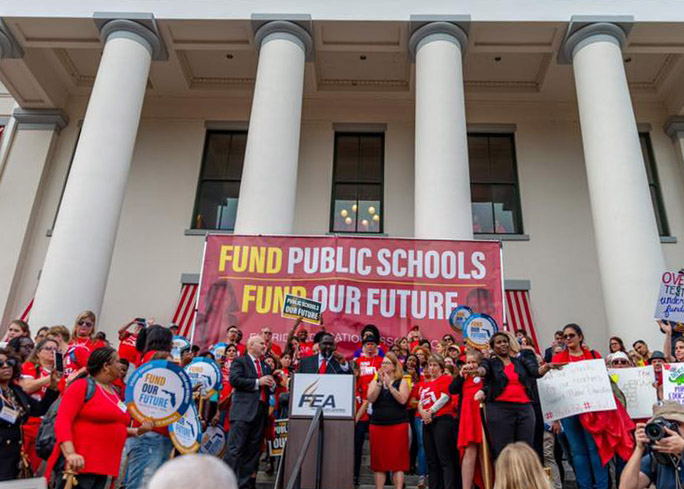 Accomplishments attributed to me were only possible because I've had the honor to work alongside committed educators and activists at both UTD and FEA. I'm proud to say that our ranks continue to grow. FEA now has more than 150,000 members, a sizable increase from when I first became president.
Like so many of you, some of the most rewarding moments of my life were those I spent in the classroom. For 10 years, I was a band teacher at two inner-city Miami high schools, Booker T. Washington and Carol City. These were Title I schools, with almost all students qualifying for free and reduced lunch. We had broken down instruments and second-rate facilities. Nobody expected much from our schools or our students.
Except those students had parents like mine, who taught them the only limits you can't exceed are those you place on yourself. My students loved music. They worked hard and overcame all the odds to win top ratings and state championships.  Today, some of them are doctors and lawyers – and you won't be surprised to know that I couldn't be prouder of my former students who are now band teachers.
In my work as an educator and activist, my passion has always been to open doors for every student, regardless of race, class, income or geography. That passion will be the center of my work at AFT – and our union will succeed based on grassroots activism from educators in Florida and the rest of the country.
I feel confident in knowing that FEA will have experienced and capable leadership with Andrew Spar as president and Carole Gauronskas as vice president. Andrew, Carole and I ran as a team and worked as a team, supported by a hard-working FEA staff.
As I write this, the FEA has just won an injunction preventing an out-of-control governor and clueless education commissioner from re-opening our schools without a real plan to keep students, teachers and staff safe from the spread of Covid-19. We won because we were on the side of right, on the side of public health and safety.
We don't know the ultimate outcome of that legal fight. But we do know this: Whenever a Florida student needs help, whenever Florida families need a voice, whenever Florida communities need an advocate for safe, quality public schools … members of the FEA will be on the front lines, fighting for justice.
As I said, this is a bittersweet moment. It's hard to leave my leadership role in FEA and the state I love. But, I leave you in good hands and I'm excited about my new role at AFT and the work that this band teacher will take to a larger stage. In every forum I will always be proud to say I am a Florida educator and member of the Florida Education Association.
I wish you a safe, healthy and successful school year.
In Solidarity,
Fedrick C. Ingram
P.S. I look forward to continuing our journey together. I invite you to follow me on Twitter and Facebook.