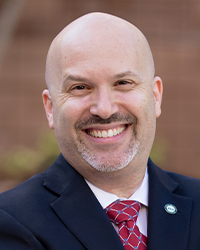 Dear FEA members,
I think you will agree that we have never faced a school year like this before. As we confront a deadly virus, we're also contending with state leaders who have failed to plan for a safe return to school for students, teachers, staff and families. At this challenging time filled with uncertainty, a time when so many are feeling isolated, our union is more important than ever.
Last fall, we embarked on a mission to lift up our public schools and our members. We crisscrossed the state of Florida to tell our story. We rallied on the steps of the state Capitol in January; we pushed a pro-public school agenda during the legislative session; we transformed our entire public school system to create a virtual learning environment for all students to keep them safe. Now, as the school year begins, we continue to fight to protect our children, their families and our colleagues. None of this is possible without you!
Collective action and effective representation are among the chief reasons that our membership has grown dramatically. More than 7,000 Florida educators joined our organization over the summer.
This week, I am fortunate to take over as President of the Florida Education Association. As the new president of FEA, I can assure you that our mission and vision will continue. Our fight to protect our members, our children and our public schools continues. Every educator I know wants nothing more than to be in the classroom with our students — safely.
You're probably aware that our departing president, my good friend and colleague Fedrick Ingram, was just elected secretary-treasurer of one of our national affiliates, the American Federation of Teachers. Fedrick will be relocating to Washington, D.C., for his new position. We're very proud of him and excited about what his election means for FEA and AFT.
In accordance with the FEA constitution, I have succeeded Fedrick as FEA president. Carole Gauronskas, our current secretary-treasurer, succeeds me as vice president. FEA's Executive Cabinet will soon choose a successor from our Governance Board to fill out Carole's term as secretary-treasurer, as our constitution stipulates. The board is comprised of FEA local union representatives from across the state.
While we are taking on new roles, our commitment to our members remains the same. Fedrick, Carole and I ran for office as a team and have worked closely as a team during the past 22 months. I want to assure you that FEA will:
Continue to be inclusive and expand the engagement of our locals in the decisions and direction of our statewide union.
Persist in building and leading a strong movement for public education and work with elected leaders — on both sides of the aisle — to support Florida's students and families.
Kick off our new Professional Development Department to help our members in preK-12 and higher education meet their professional goals and enhance their career opportunities.
Seek out and develop community partners who support public education.
As many of you know, Carole had a wide-ranging career with a background in banking and private industry before becoming an Exceptional Student Education (ESE) paraprofessional at Ketterlinus Elementary in St. Augustine.
Carole first became involved in public schools as an advocate for her son, who has special needs. She brought the same determination and commitment to advocating for her co-workers, who elected her president of the St. Johns Educational Support Professional (ESP) Association in 2015.  Carole has never met a challenge she couldn't handle, and she is always a strong voice for focusing our work on the concrete needs of students and parents.
For those of you I haven't had a chance to meet, let me give you a little background. I grew up in a suburb of New York City, where my mother was a public school teacher and a union member. After earning my degree in music education at The Ohio State University, I came to Florida to begin my teaching career in Daytona Beach, where I was hired to develop a youth orchestra at my public elementary school. During my second year as a teacher, I asked a question about our union contract; in my third year, I was elected union steward for my school.
After nine years in the classroom, members elected me president of Volusia United Educators, where I served for 15 years.
You should also know that my incredible wife, Vernell, is an FEA member and a teacher in Volusia and both of our daughters are public school students there. It's a big year. One of our daughters is just starting middle school, and the other is entering her senior year.
Like all parents, I want my children to have the best education possible. Our goal at FEA is to build a movement that delivers quality education to all Florida students.
To build a powerful, pro-public education movement, FEA will need to act strategically. We endorse and contribute to both Republican and Democratic candidates for public office, because supporting our schools can and should be a non-partisan or bipartisan issue. To advance our agenda, we need advocates from across the political spectrum.
FEA also will continue to work closely with the Florida labor movement. For the past four years, I've served as secretary-treasurer of the Florida AFL-CIO, the state labor federation. I'm now stepping down from that position to focus my full efforts on representing 150,000 Florida teachers and other educators. But the relationships I built with firefighters, construction trades, transit workers and many others will continue. These union members are the parents, grandparents, aunts and uncles of our students. We are natural allies in the fight for quality public schools.
During these difficult times, I've been incredibly proud to see FEA members step up to every challenge. FEA members put students and families first and get the job done because you care about our kids, our community and the future of our country.
Thanks for all you do for our schools and communities.
Wishing you a happy Labor Day and great success for the new school year.
In Solidarity,
Andrew Spar